The digital world has changed everything in our own industry. The monolithic advertising agencies of the past are dying, and are being replaced with a new breed of agile, integrated and digitally coordinated virtual agencies and networks.
Pimento was the first of these 'virtual agencies' and has grown to become one of the chief disruptors in the advertising sector, winning many significant global advertising and marketing accounts.
Imagine both the fear and the delight when they asked Crush to design and build their new website, as this new site will be scrutinised by our peers and competition, as well as the largest brands and best marketeers in the world.
"Crush have been instrumental in rejuvenating our brand. They developed our new site, pushing the boundary on web development and put in the extra time to make this work for us. They challenged us on the design and content, with the end result being above our expectation."
Theresa Kruger, Pimento

The variation of work that Pimento can deliver is astonishing. They have some of the best creative and marketing minds in the UK in their network, as well as the most exciting digital entrepreneurs. Such a trail blazing and complex offering needed a brand to match. Understanding the client was vital, as was understanding their proposition, as we needed them to make some big decisions. 
The resulting design and functionality represents their personality and expertise perfectly – an individual look and bespoke movement really sets the tone.
As well as designing for Pimento, we are delighted to be one of the longest standing members of the Pimento network. Combining our skill-set with complimentary services from the wider network has enabled us to work for a variety of incredibly diverse projects. Why not see for yourself at pimento.co.uk.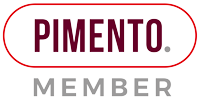 Subscribe for occasional emails of news and views